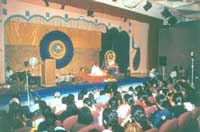 Mother has been visiting many parts of the world for over fifteen years-but the Gulf States waited until the New Millennium for the blessing of her presence. They have been doubly rewarded for their patience! In late September, Mother visited that part of the world for the first time, giving three days of programmes in Dubai. And now, at the end of November, she returned to the Arab world yet again, this time to Kuwait.
The first programme was held in a private villa, and was attended by enthusiastic devotees from all backgrounds and walks of life. The next two programmes were hosted by the Indian Embassy. The people who came for Amma's darshan included Kuwaitis, Europeans, Americans, and Indians. Of course the majority were expatriate Indians, from both Kerala and the rest of the country. Their joy at having this opportunity to gather the whole community together for bhajans and satsang was evident, and their enthusiasm upon meeting Amma was beautiful. Many of them had been members of local satsang groups for years, and had considered Amma their own Mother and Guru, but had never actually met her. Imagine how it must have felt to finally see, hear and touch the One for whom they have for so long yearned!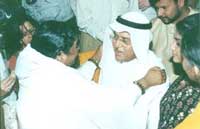 According to the original schedule, the second Embassy programme was to be the last for this visit. However, since Mother's flight back to India would happen only on the following night, she responded to the devotees' yearning hearts by scheduling a fourth programme, this one to be held in a private home. So the final morning in Kuwait saw Mother and her tour group arriving at a beautiful villa, where she led all in bhajans and meditation, and then gave darshan to the crowds who-by cell phone and e-mail, had received word that there was yet one more chance to receive Amma's blessing.
For Amma's second visit to the Gulf, people came from not only Kuwait but also from Dubai, Abu Dhabi, Qatar and other neighbouring areas, eager to be in the presence of the Divine Mother. The fond memories of Amma's visit will continue to nourish their love and faith.
27 November 2000, Kuwait