09-10 Jan – Mangalore, Karnataka – Bharata Yatra 2016
The second stop on the Bharata Yatra was a two-day Brahmasthanam festival in Mangalore.
Amma was welcomed to the stage with traditional drumming, dancing and rows of girls wearing traditional attire and oil lamps.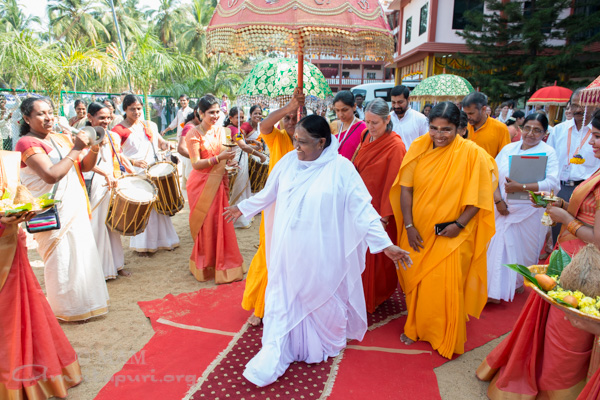 During the program, Vidyamritam scholarships were distributed to 51 deserving students and Amrita Nidhi financial aid was extended to thirty more needy. Purified drinking water filters and coloured dustbins were distributed to 10 government schools. Dedicated Amala Bharatam volunteers who have been working all these years since the launch of the project were honoured and were presented with a water filter for their family.
Dakshina Kannada Lok Sabha member Nalin Kumar Kateel, MLA JR Lobo, Kannada Sahitya Parishat President Pradeep Kumar Kalkura and others were present to welcome Amma to Mangalore.
Dharmasthala Dharmadhikari D. Veerendra Heggade who came to honour Amma, in his address said, "People irrespective of caste, colour sect and religion come to Amma and she blesses them with her motherly care. The relationship of disciple and Guru is unique. Only the Guru can show the way to reach God. India has the unique tradition of guru-shishya system."
In her address, Amma said "…people should think positively; anger, jealousy and pride make one sick. The world is full of problems. We should not only sympathise with those facing problems, but also work towards solving them. Sincere and selfless work towards society and mankind is the way to achieve salvation. Change is a part of life, we should be ready to accept any situation in life with a smile. Acceptance is key to success."
During both days of darshan, different Amrita Vidyalayam schools from across Karnataka came and presented cultural programs which won the heart of many, especially the yoga demonstration by the students of Davangere.
On both days Amma delivered satsang, led the meditation in Kannada, sang bhajans and gave darshan.
On the final day, at the end of the program, Amma stood up and danced, the whole crowd also joined in, singing and swaying with her. The Mangalore devotees will always remember those beautiful moments forever in their hearts.