20 May 2002, Final Darshans in Amritapuri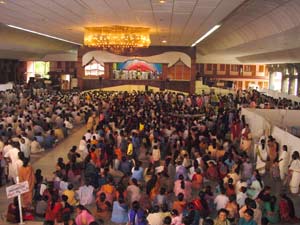 It's been this way for 16 years now. When the Monsoon comes, all of Amma's Indian devotees know it is time to come to Amritapuri for one last darshan.
After stopping public darshan for one week in order to spend time with the ashramites who stay behind during Her U.S. Summer Tour, Amma scheduled two final darshan dates: Saturday, May 18 and Sunday May 19.
In spite of a fierce downpour, which persisted throughout the day, more than 12,000 of Amma's children came Saturday for a few final intimate moments with their Mother. Most were from Kerala and the neighbouring state of Tamil Nadu, however some came from as far as Delhi. The darshan, which took place in the hall normally reserved for the large crowds of Devi Bhava, went from 11 a.m. till 10:30 p.m.
Sunday, Amma once again came to the new hall at 11:00 a.m. and began what was to be 14 more hours of darshan. Despite the large crowds, Amma seemed to be taking Her time with the devotees, giving them a little extra attention before the upcoming separation.
By the end She had blessed more than 15,000 people. 27,000 in two days! For many, it was a sad goodbye – Amma will not return from the U.S. until the last week of July. But watching Amma – bejewelled with a necklace of flowers, a smile always on Her lips – one sensed no sorrow. Established in the Ultimate Reality, for Her there is no coming and going – the union of Mother and child, the perennial Truth.