25 May 2005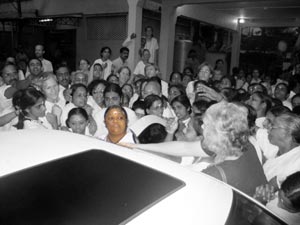 Amma left Amritapuri this morning for 8 weeks of spiritual programmes to Japan, USA and Canada .
Amma will hold programmes in 12 cities in this two months tour. As is usual there will be satsangs, bhajans, meditation sessions and darshan at all the programmes.
This is the 19th year Amma is visiting the United States. Amma will be back in Amritapuri in August.
Amma had cancelled all her programmes in North India and overseas earlier this year as the Ashram had undertaken massive tsunami relief (news) work.