26 Sep 2013, Amritapuri – Amritavarham60
Amritapuri had already seen some wonderful performances in Aruna Mohanty, the Odissi virtuoso, and Manju Warrier, the talented, charming actress and accomplished dancer. But the night was far from over. The hall was jam packed into the early hours of the morning of the 27th, as the crowds awaited eagerly to the dynamic duo- Sivamani, the percussion king and Stephen Devassy, the man with the flying fingers on the keys. They were joined by Runa Rizvi on vocals and Ravicharan on sitar.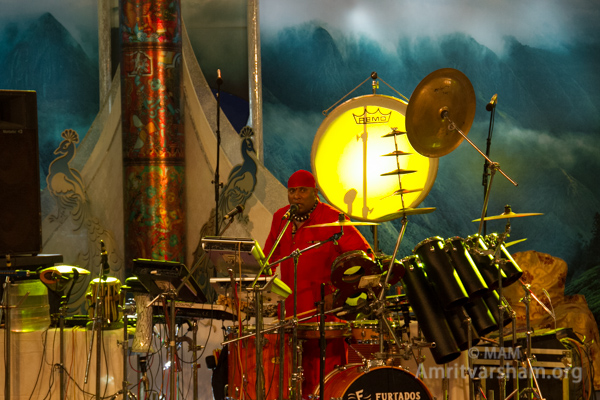 From the moment Sivamani's drum sticks touched the drums, it was magic. The energy he generated was electrifying. Just watching the bandana clad drummer perform stunts with his sticks inspired awe. It was with a sense of wonder we watched and heard jerry cans and suitcases producing music in Sivamani's hands. When he played happy birthday to you on the drums, the entire hall sang along to wish our beloved Amma! Earlier, he offered his prayers to Amma by simultaneously playing multiple instruments including Kanjira and Goblet drum adding sweetness of Amma's Bhajan, especially with 'Amma Amma Taye', becoming a musical extravaganza. It did not take Stephen Devassy long to show us why he is considered on par with The Mozart of Madras, when it comes to playing the keyboard. He still holds the record in Asia for scoring the highest in the Trinity College of Music's (London) Examination. Clad in a white shirt and blue jeans and with his hand plucking up musical notes out of thin air, he straight away connected with the audience, who yelled in delight as his name was announced.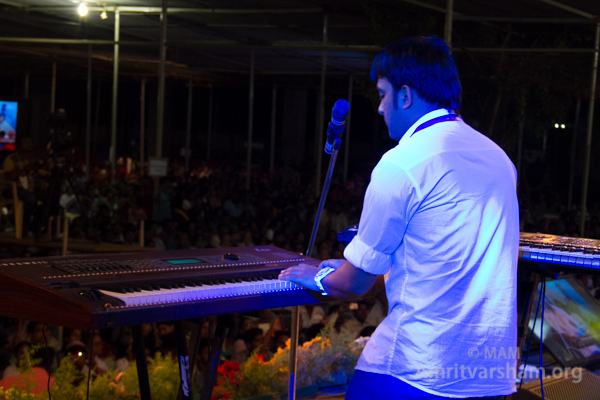 The performance in itself was indescribable, with the audience engulfed in a mix of foot tapping beats and emotion filled notes. Each artist tired to outdo each other, complement each other, and create a unique musical fusion together. An ingenious trick involving submerging a plate into a tub of water certainly impressed us all. There was a special recitation by Runa Rizvi, that she composed herself for Amma (Maa tere siva…kuch bhi nahi hai). It was a melodious rendering, that touched the hearts of everyone present there. From then on, in spite of the early hours, the audience became the performers, clapping to his beats – on a suitcase! It was unbelievable to see a crowd so energized at 2 30 am in the morning.
Indeed, the world will awaken to Amma's birthday, but there will be a step in everyone's stride, a hum in every breath — a reminder of a uniquely spiritual and musical night.
– Varsha Suresh Kumar