11 July 2001, Amritapuri
Amma is not one of those people who say one thing and do another. You can count on it: if She tells Her children to do things a certain way, She will follow Her own directives. She models what She teaches.
Take this evening when She was playing with Ram after bhajans: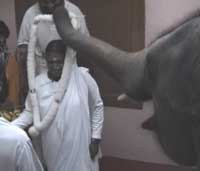 It was a special evening – Karthika is coming: the ashram is decorated with strings of lights, and the canopy to shelter people who will do the special Kali puja has already been erected outside the Kalari. To celebrate, Ram garlanded Amma. Then Amma gave the young elephant, whom She usually feeds bananas and biscuits a special treat: payasam (a sweet rice pudding).
Obviously, you can't be too delicate feeding an elephant pudding. Elephants aren't adept with spoons. Anyhow, one sign of a mother's love is that she feeds her child with her own hand. So tonight Mother fed Ram by Hand. From the brass plate held for Her by a brahmachari, She scooped out one handful after another, plopping each elephant-sized helping precisely on the huge pink tongue held at the ready. The dish was finally empty – no, almost empty: Mother ran Her cupped hand around the inside edges of the plate, gathering any last bits of payasam, and these She indelicately smeared it onto Ram's tongue!
The brahmachari standing behind Mother took the plate – but not for long! She called for it again. "Empty", it was handed back to Her. Amma tried to scrape the last bits of payasam from the bottom and sides, and decided She couldn't really empty the plate properly that way. With determination She turned the plate towards Ram's always-open mouth, and dragged it across his tongue and lower lip. And again. And once more.
Satisfied at last, She handed away the plate.
In a world where people starve, and where nourishment depends upon the lives of plants and sometimes animals, Mother says that food should never be wasted. When She serves lunch to the ashramites and devotees on Tuesdays, She asks people to tell Her how much food they want: "Big one? Small one?" She'll say, in English, to westerners. She encourages the computer students never to take more food than they'll eat. The wardens check plates to see that food isn't wasted! Back when Mother used to visit the kitchen, She used to check the waste buckets, scolding if She saw good food being thrown away. During one kitchen visit, to make Her point more dramatically, She even ate some of the rice that had been thrown away! The garbage separation system at the ashram serves Her policies also, for food waste is collected separately and fed to the cows or used to make compost.
So, naturally, Mother wasted none of Ram's special treat tonight.