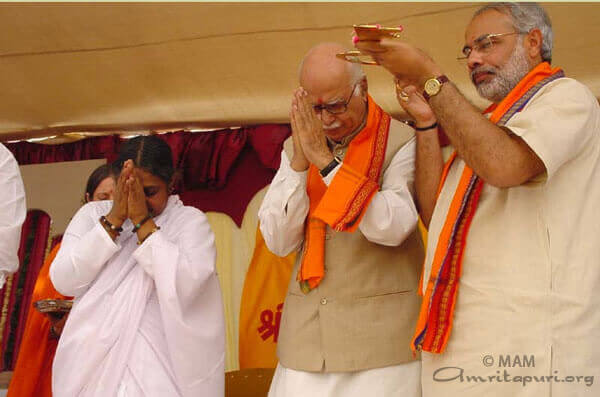 Sunday 10 March, 2002 , Gujarat
It was a hard time for Gujarat. A year after the devastating earthquake, the region was falling victim to communal riots. Amma was in Mumbai. She was scheduled to leave for the earthquake-struck region of Bhuj, in Western Gujarat, where She was to inaugurate the three villages that the MAM had reconstructed. But in order to reach there, She would have to travel through areas that had erupted in violence. Many people were discouraging Amma from making the trip—even the government's Central Intelligence Bureau. But Amma would not be deterred. "I have decided to go, come what may, and those who fear for their lives don't have to come."
The programme was a huge success and no one was hurt. Later Amma commented that the thousands of villagers had been waiting to meet Amma for a long time. Since they had lost everything, they didn't have enough money to visit Amma anywhere else. They also badly wanted Amma to bless their homes before they moved in.
When Amma did arrive, thousands came to have Her darshan—the men in their serious and weighty turbans, the women in their flowing rainbow-coloured dresses. This region was once travelled by Sri Krishna, and the people are still his devotees. Looking at them in their colourful attire, it was easy to imagine they were flocking to see the Lord. And they even arranged a horse-drawn chariot, like Krishna's—in which to carry Amma to the darshan stage.
L K Advani applauds M A Math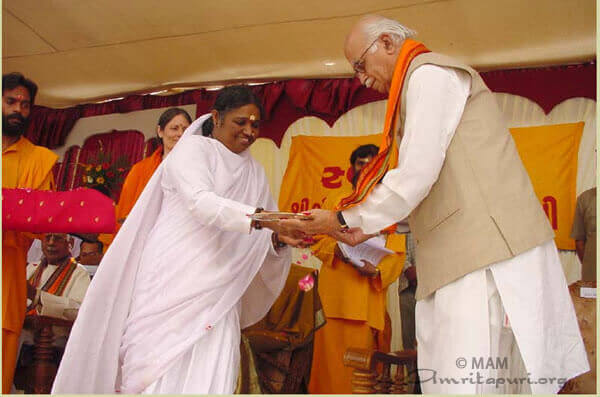 Also present for the occasion were Union Home Minister of India Sri. L.K. Advani, the Governor of Gujarat Sri. S.S. Bhandari and Chief Minister of Gujarat Sri. Narendra Modi. All three of the politicians helped symbolically handout the keys to the newly constructed homes. In his speech Advani applauded the MAM for its relief work.
Here it was also officially announced that the villagers and the state government had officially renamed the three villages after Amma. Modsar is now Amrita Nagar, Dagara is now Amritamayi Nagar, and Mokhana is Amritapur.
Speaking on the occasion, Shri Advani lauded the Math, as the best among non governmental organizations, for its role in the reconstruction and rehabilitation effort after the earthquake. Gujarat Governor Shri S.S. Bhandari and the Chief Minster Shri Narendra Modi hailed the Mata Amritanandamayi Math for its massive rehabilitation work in the remote villages of Kutch district within a shortest period of 5 months and congratulated the villagers.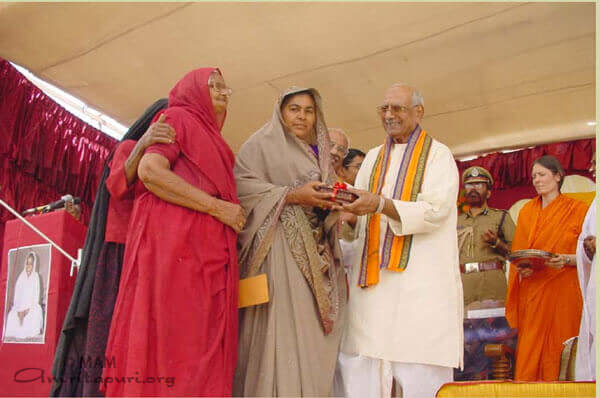 In the first phase, construction of nearly a thousand houses, primary health centre, school and also a high school and a vocational educational institute have been completed at a cost of Rs. 22 crore. In appreciation of the efforts of the Math to rehabilitate the villagers, Modsar village has been renamed Amrita Nagar, Dagara as Amritamayi Nagar, and Mokhana as Amritapur by the State Government.
Eighty University students from Japan were working as full time volunteers on site for the past three weeks. After the ceremony, Amma gave darshan to all the villagers. The darshan lasted upto 7 p.m. After the darshan Amma visited all the three villages.
Learning about the devastating earthquake that struck Gujarat on 26th Jan. 2001, Amma was grief-stricken on the colossal loss to life and property. Realizing that thousands of the affected would need immediate and expert medical attention, she arranged for a team of highly qualified and committed specialists and paramedical staff from the super speciality hospital. Amrita institute of Medical Science at Kochi to be airlifted for service in Gujarat. Amma has also directed that two well equipped ambulances with inbuilt operation theatres with a team of 100 people including students and staff of Amrita Institutes to leave for Gujarat.
A team of 12 doctors including neuro, orthopaedic, general surgeons moved out in the remotest villages in Bhuj and Anjar taluks in Kutch district. Within the first few days, they attended many complicated cases of fractures, head injuries, severe burns, neuro surgeries and other injuries. The other team got busy right away removing debris and dead bodies. The volunteers provided immediate and essential medical and food supplies to the helpless victims. The rescue operations were carried out in 15 villages. "It was bitterly cold and we were not familiar with the place. But it was the dedication of team that made it possible" says Br.Sadashiva Chaitanya recalling those days.
The unlucky lost their lives but for those who survived were left with nothing. The next step was to make sure that the thousands who survived were provided with a home and other basic amenities for their living.
Responding to a call by the Govt. of Gujarat for participating in the rehabilitation work, Amma decided to adopt three remote villages – Dagara, Modsar and Mokhana completely destroyed by natures fury and located far away from the highways.
The project envisaged construction of about 3000 houses each with a floor area of about 500 sq.ft. and providing facilities like schools, hospitals, dispensaries, community halls, roads, water supply and sewerage connections and providing electricity at an estimated cost of Rs. 40 crores.
The work of rebuilding homes for earthquake victims in Dagara, Modsar and Mokhana started in Aug. 2001. Internationally, renowned architect and town planner Shri. Balakrishna Doshi drew up the plans.
A team of Amma's sannyasi disciples, brahmacharis and a team of 800 workers have been toiling day and night to ensure that people of these villages get their houses without any delay. The inhospitable conditions, lack of infrastructure did not deter the spirit of these people.
The presence of a large team of volunteers from the Ashram and the in-house construction team and their dedicated work resulted in cost savings and better quality of construction. In the 1st phase construction of about 1000 houses, school, primary health centre have been completed. The remaining construction activity in all the three villages is in progress.
The loving service of Amma's children was a consoling and confronting experience to the hearts of the villagers whose lives had become full of sorrow, pain and bereavement.