Amma sends a condolence message on the demise of Dr APJ Abdul Kalam, former President of India
Dr APJ Abdul Kalam was a personification of goodness. He looked at the world with the vision of a Rishi. He was an exemplary scientist, a lover of humankind and a visionary. He blended together his scientific knowledge and love for humanity. He taught youngsters to dream high and have the confidence to realize them. He bridged the gap between the ruling authorities and the common man.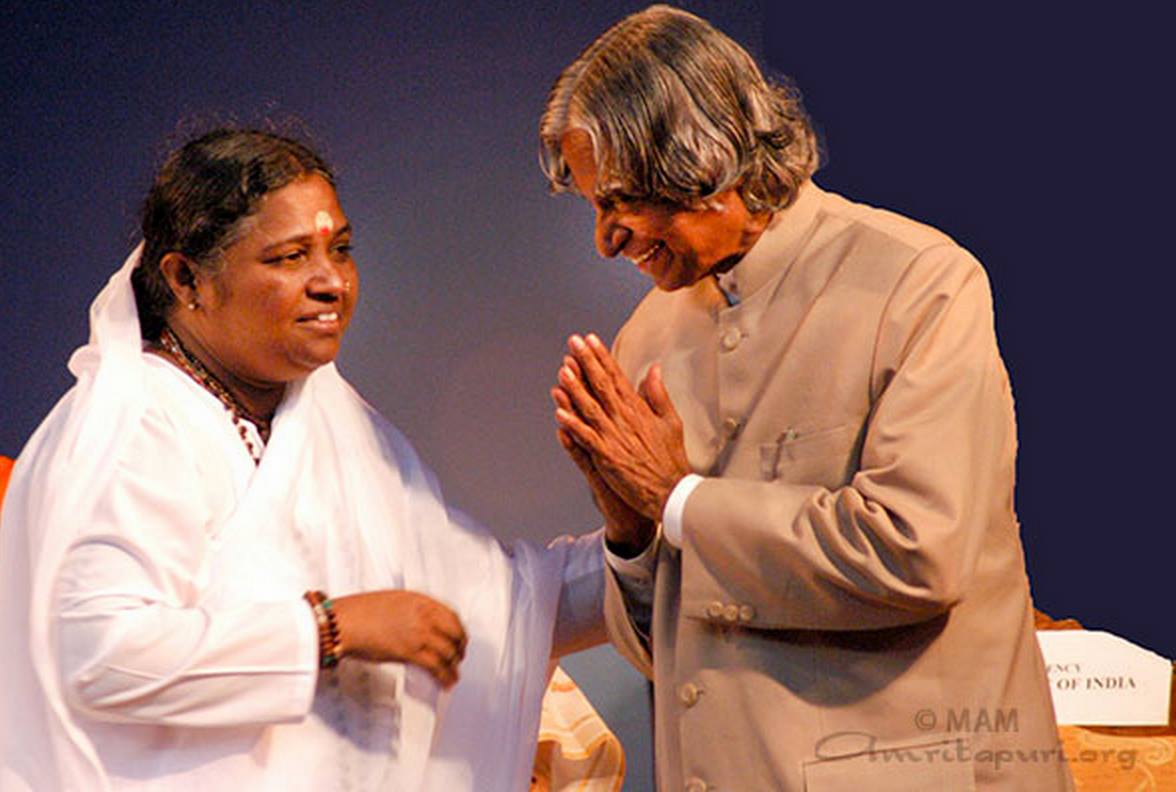 Amma has met Dr Kalam many times and has had long discussions with him. He came to Amritapuri the first time when he had visited the University campus to give a lecture to the students.
When Amma enquired about his dreams, he said that he wanted to interact with at least one hundred thousand students. He wanted to convey to them that the future of the country will be moulded by their dreams. During the Amritavarsham 50 celebrations, Amma kept a day exclusively for the Youth and Dr Kalam addressed them and inspired them.
Wherever he went he was able to interact with the student community and the youth and awaken their morale. This proves that Divine Grace will sure fulfil any selfless desire that we have.
He had the heart and the tenderness of a poet. A true scientist sees creation with wonder and the innocence of a child. In the case of Dr Kalam this was true to the word. In front of knowledge and learning he was always humble and he always had the attitude of a beginner. May be this was the reason why he was so different from the others.
He visited Amma in Amritapuri when he was the Honourable President of India and invited Amma to the Rashtrapati Bhavan as well. Walking in the gardens of the President's palace for a long time with Amma, he kept talking about the stories of every plant, flower and petal-like a child. He shared his dreams about the country. He also expressed his anxiety about the children and the younger generation of India. He discussed the ways of how to inspire them to tread the right path in life.
He had only goodness in his heart. His physical presence is not with us any more. Dr Kalam is not somebody who can be confined to the pages of history just as one of the former Presidents of the Nation. His high thinking and his pure lifestyle will always inspire us and will keep spreading fragrance all around.