Amma signs Faith Leaders' Universal Declaration Against Slavery, Joining global faith leaders at Vatican Ceremony
Dec 2, 2014 – Vatican City, Rome
Amma joined Pope Francis in the Vatican and 10 other world religious leaders this morning, in a ceremonial signing of a declaration against human trafficking and slavery.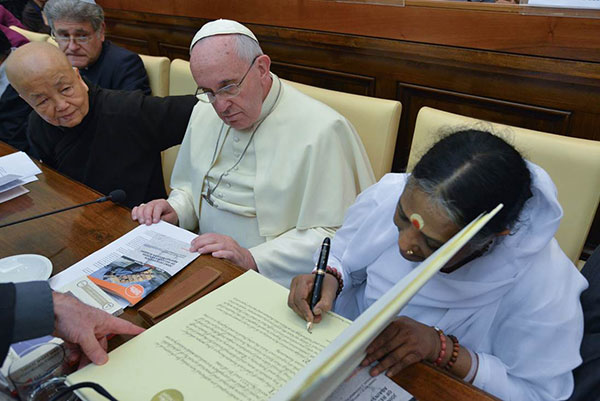 The other leaders were: Justin Welby, the Archbishop of Canterbury and Head of the Anglican Church, Buddhist: Zen Master Thich Nhat Hanh (Thay) (represented by Venerable Bhikkhuni Thich Nu Chan Khong); Mohamed Ahmed El-Tayeb, Grand Imam of Al-Azhar (represented by Dr Abbas Abdalla Abbas Soliman, Undersecretary of State of Al Azhar Alsharif); Grand Ayatollah Mohammad Taqi al-Modarresi; Grand Ayatollah Sheikh Basheer Hussain al Najafi (represented by Sheikh Naziyah Razzaq Jaafar, Special advisor of Grand Ayatollah); Muslim: Sheikh Omar Abboud; Malaysian Buddhist Monk: Ven. Datuk Kirinde Dhammaratana Nayak Maha Thero, and Chief Rabbi David Rosen, KSG, CBE, His All-Holiness Ecumenical Patriarch Bartholomew (represented by His Eminence Metropolitan Emmanuel of France), Rabbi Skorka, the coordinator of the Jewish community in South America.
The signing today of the Faith Leaders' Universal Declaration against Slavery is a historic initiative, working together to end a global tragedy by 2020, gathering combined represented congregations of followers and supporters of over half the world's population.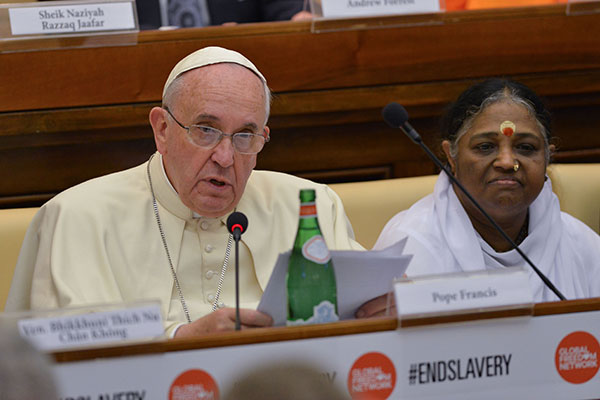 Amma commented herself:
"We are honoured and thankful that His Holiness Pope Francis has gathered us here today under the auspices of the Global Freedom Network. I am optimistic that all global faiths are uniting together to inspire both spiritual and practical actions towards society ending the horror of slavery and human trafficking.
"People from all nations and religions become victims to the ravaging effects of human enslavement and experience extreme abuse and suffering. Their physical and mental pain does not differentiate between language, race or skin colour. These victims are just a single group of humans, struggling against the clutches of endless sorrow and emotional suppression.
"The human mind has created many divisions in the name of religion, caste, language and national boundaries. Let us try to create a bridge of all-encompassing pure love to break down these self-created walls."
Pope Francis commented, "Inspired by our faiths, we have gathered together today because of one historical initiative and one concrete action: to declare that we will work together to eradicate the terrible scourge of modern slavery in all its forms. The physical, economical, sexual and physiological exploitation of men, women, boys and girls is currently linking millions of people to dehumanization and humiliation. Every human being —man, woman, boy and girl— is an image of God. God is Love and freedom that is given freely in interpersonal relationships; therefore, every human being is a free individual, whose life is for the good of others, living in equality and fraternity."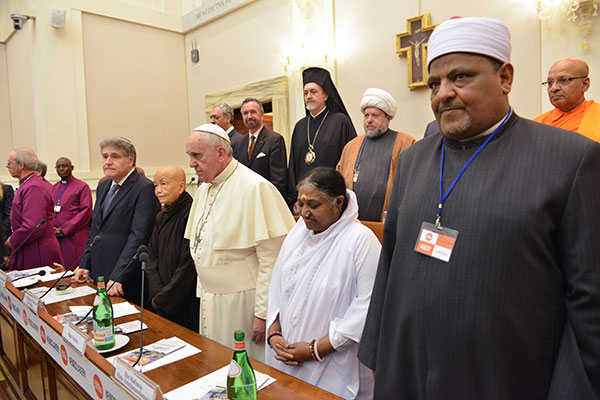 Archbishop Justin Welby commented, "Christians believe that the divine life was lived fully and uniquely in the flesh and blood of a human being, Jesus Christ, born through the willing co-operation of his mother Mary. And so we are bound to see every human being as part of the divine plan. This means that no human body can, in any circumstance, be simply an object to be traded, trafficked or enslaved."
Rabbi Dr Abraham Skorka, Rector of the M.T. Meyer Latin-American Rabbinical Seminary, & Rabbi of the Benei Tikva Community, said, "The heroic coming out of slavery from Egypt is one of the essential parts of the Pentateuch, and one of its central messages is that courage and profound meaning inherent in being a free person. It is clear from the above that, in the biblical conception, enslaving an individual hurts the image of God lying inside every human- and only those individuals who can fully and profoundly be free can dignify the human condition for themselves and in God's eyes."
The Most Ven. Datuk K. Sri Dhammaratana, the Chief High Priest of Malaysia, said, "Human Trafficking and slavery is so widespread that it is practised in every part of the world at varying levels of intensity. Religious leaders play an important role to work together with the government parties to put a stop to these negative activities. I believe that together we must be united with the effort to increase investigations and prosecutions of labour trafficking offences and slavery. We must ensure that there are equal human rights for all and that everyone can live the life that they deserve."
Mohamed Ahmed El-Tayeb, Grand Imama of Al-Azhar (presented by Dr Abbas Soliman, Deputy of Al-Azhar), said: "At no point did Islam condone slavery between the people whom it does as being from the same father, Adam, and the same mother, Eve. All forms of slavery are deemed reprehensible in Islamic law and religious and human rights institutions, authorities and organisations must all work to abolish them and push countries to enact laws and legislations that deter the deprivation of freedoms."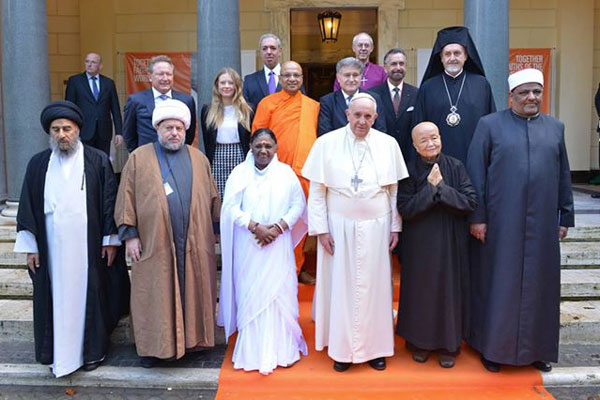 His All-Holiness Ecumenical Patriarch Bartholomew, the leader of the Orthodox Church, said, "We would like to assure you that we stand with you in solidarity and commitment to eradicate modern expressions of slavery, which are a disgrace to God, a dishonour to humankind, and a degradation of all its innocent victims in the images and likeness of our heavenly Creator."
And Justin Welby, the Archbishop of Canterbury, said, "Christians believe that the divine life was lived fully and uniquely in the flesh and blood of a human being, Jesus Christ, born through the willing co-operation of his mother Mary. And so we are bound to see every human being as part of the divine plan. This means that no human body can, in any circumstance, be simply an object to be traded, trafficked or enslaved."