29 – 30 April – Trissur, Kerala — Bharata Yatra 2014
Following her departure from Kochi, Amma visited eight houses on her way to Trissur, spending time with each family, before arriving finally at the destination of her next program at around 8:30pm in the evening. Amma was formally welcomed to Trissur by the head priest of Guruvayoor* temple Chennas Dineshan Nambootirippad.
Immediately afterwards, Amma proceeded to the stage where she sang two bhajans and, to the delight of the large crowd of devotee volunteers, served a prasad dinner to one and all.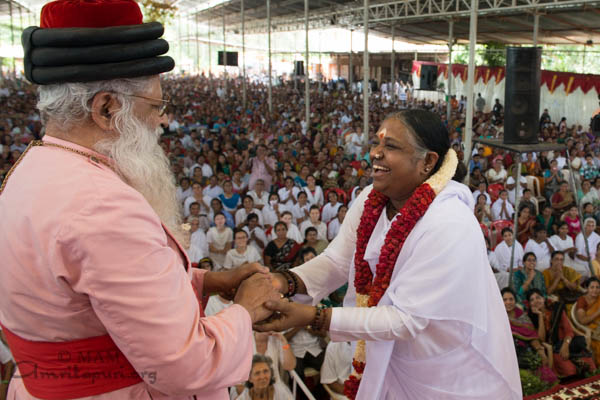 The program commenced the following day with 55 poor people receiving their first of many pension checks—they have been enrolled in Amrita Nidhi, lifetime financial aid program, which currently benefits more than 69,000 people in poverty. India's head of the Assyrian Church of the East, His Grace Dr. Mar Aprem Mooken Metropolitan helped Amma to hand over the pension checks to the recipients. Speaking on the occasion, he said:
"Working for the welfare of the society is the goal of people like us. This is what Jesus Christ has taught us; therefore we care for others. By imbibing the message of God and serving others, Mata Amritanandamayi Devi has been blessed by God. Amma's message of peace has travelled all around the world. Where there are problems and difficulties, we should bring peace – this is God's desire. Amma is a great person who is working day and night in order to bring God's desire into fruition.
"I have read one of Amma's books – her language is so simple. Through her words – even though she has not studied at Oxford or Cambridge – she is conveying the message of goodness to society. She has imbibed God's message and is giving goodness to humanity. I've gleaned this through reading her words and listening to her talks. I've gained my knowledge from studying at universities, but Amma's education has been different – she has learned directly from God through serving others.
"The wealth she receives is used for the welfare of others. I came here to participate in the activities that are being conducted for the welfare of others. It is rare to find someone who works for the welfare of society. Most people live for themselves. May we all be able to come out of our selfishness and work together for the welfare of society."
.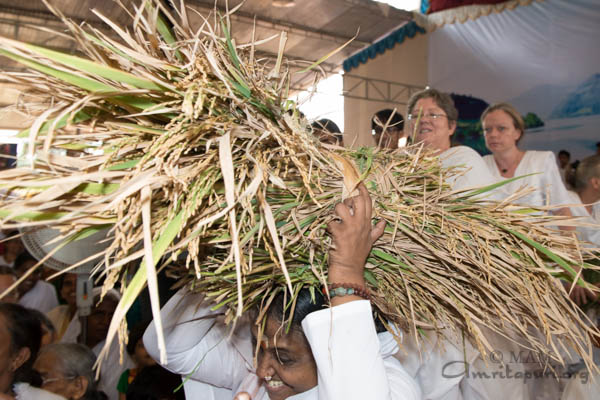 Inspired by Amma's message of living in harmony with nature, a group of 10th standard students from the Amrita Vidyalayam, Trissur had been growing crops locally using organic farming methods. They had recently cultivated organic rice on a small plot of land near to the school. Hari Krishnan, Adarsh, Rohit, Siddarth, Jaya Sudha, Arjun, Sri Lakshmi and Partha Sarathi presented Amma with the harvest during darshan. It took them 110 days to grow and harvest the rice using traditional methods that they had learned from local farmers.
"I am very happy to do the cultivation. Through the process I myself benefit and so does society as a whole," said Jaya Sudha. "Cultivation is better than studies, you can connect with nature" comments Siddarth. But Hari Krishnan is convinced "You cannot put education aside, education and cultivation has to go hand in hand."
On both program days, Amma sang bhajans and gave satsang, before giving darshan to all those present. Despite the oppressive heat of day the crowds were large and darshan continued late into the night and into the early hours of the next day. Each evening brought relief with a cool rain, calling to mind the refreshing breeze of inner peace that so many experience in Amma's presence.
– Kannadi
*Famous Sri Krishna temple in central Kerala