3 April 2014, Manila, Philippines
Amma donated $1 million U.S. to the Yolanda-Haiyan Multi-Donor Fund in the Office of the President of Philippines on April 2nd in Manila.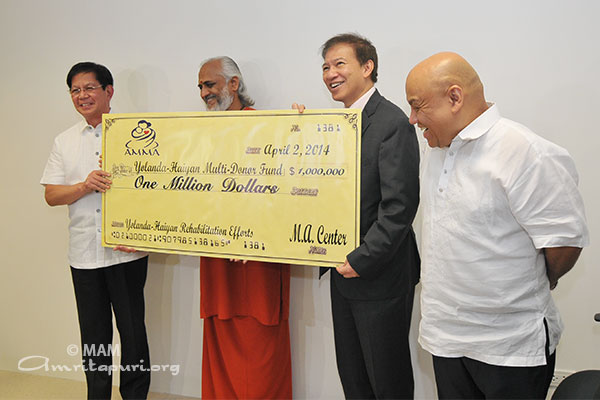 After seeing the effects of Yolanda-Haiyan firsthand in November 2013, representatives from Embracing the World (ETW) along with Amma decided to donate $1 million U.S. to the most severely affected areas from the typhoon. The American wing of ETW, called the Mata Amritanandamayi Center, contributed the amount, which will be used for children's educational needs, including orphans.
After more than two months of research, ETW decided that the Office of the President of the Philippines and its Presidential Assistant for Rehabilitation and Recovery (PARR) was the best place to present the donation.
Swami Ramakrishnananda Puri, a member of the Board of Directors of M.A. Center, specified that the donation was made to try to alleviate the suffering seen by himself and other ETW volunteers immediately after the typhoon. "This $1 million dollar contribution will be supplemented in the future by vocational-training of typhoon-displaced adults and students' living expenses to complete high school," he said.
"We continue to be moved by the outpouring of support from the international community," said PARR Secretary Panfilo M. Lacson. "We are especially grateful to Embracing the World for being one of the first international private donors to reach out to PARR to make a donation to the Yolanda survivors. We congratulate Amma for undertaking this advocacy, not only in the Philippines, but in the whole world. We hope she inspires more people by her example."