18-19 Feb, Kozhikode, Kerala – Bharata Yatra 2014
On February 18th and 19th 2014 Amma held the annual Brahmastanam Temple festival in Kozhikode, Kerala.
Upon arrival in her Kozhikode ashram on 17th evening she served dinner to one and all and sang two new Kerala folk songs.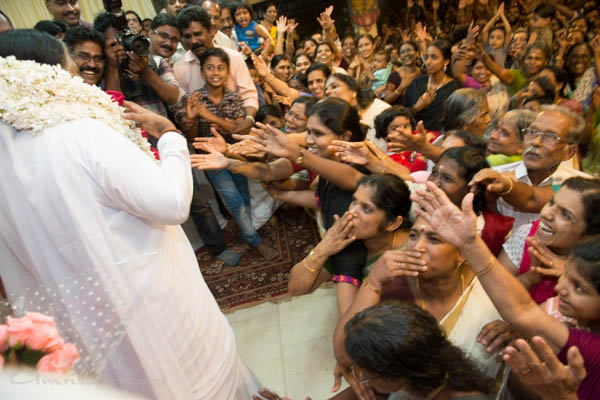 During the public function on February 18th the new charitable project "Hridaya Sparsham" (touching the heart) was launched. It is a joint venture of MAM and the newspaper Mathrubhumi Daily. Mathrubhumi managing director Virendra Kumar, managing editor PV Chandran and AIMS paediatric cardiology Head of Dept Dr R Krishna Kumar were present to lanuch the programme with Amma.
"Hridaya Sparsham" will focus on diagnosing and treating heart diseases in children throughout the state. According to statistics, every year 1700 children in Kerala are born with a congenital disease. However, most of these are not diagnosed and thus many children develop severe health problems or even die prematurely. The main reasons for this are lack of awareness in the general public about such diseases, a shortage of good medical care and lack of money by the families to pay for checkups and, if needed, treatment of their children.
Over the following months, AIMS Hospital will conduct medical camps in remote areas all over Kerala with the goal of providing a free thorough health-check to every child in the state. If treatment is required, AIMS will provide comprehensive state-of-the-art medical care, including free heart surgeries, to deserving children.
After launching the project, Virendra Kumar said: "The word love becomes meaningful only when we compare it to Mother's love. That love is without boundaries or limitations. It does not desire anything, it simply offers itself to the world. There is only person who truly does that – our Amma. I lost my biological mother. But one will always remember one's mother, right from birth to death. This is why now, in my anxieties, my joys, my problems, I remember both – Amma, Mata Amritanandamayi and my biological mother."
On both programme days, Amma sang many new and old Malayalam songs, gave satsang, led the manasa puja and received one and all with her very own Hridaya Sparshan – the loving touch that opens and heals the hearts of millions around the world.
– Tulasi