"Onam's message is the quintessence of all imaginable goodness. The reason for this is that, in Onam, we see the picture of all material prosperity as well as lessons of dharmic values and kindness. It's festive atmosphere is filled with enthusiasm, celebration, games and dances. It is a product of our bond with the culture of our ancestors, as well as of our bond with Nature. It is imbued with a love so strong that it brings together family members even when they are drifting apart. Most importantly, it contains teachings that reveal the most subtle secrets of life. Moreover, it is founded upon the legend of a great emperor who was able to live these ideals.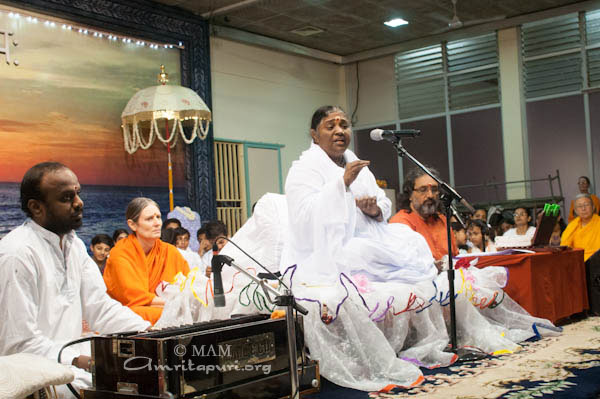 "There are two kinds of Onams. The first is the Onam born of prosperity and auspiciousness. The second is the Onam that comes from inner contentment despite lack of external affluence. That is the meaning behind the famous saying, "Be content with what you have and make each day an Onam." This is the second Onam, the Onam of inner peace. The Mahabali that we know represents the first kind of Onam. The Mahabali who visits us every year represents the second kind of Onam.
"When Mahabali discovered that all the three worlds he had attained were insignificant before the three steps of Vamana, his ignorance dissolved and knowledge shone forth. He offered his head—representing the ego—at the feet of the Lord. Surrendering all his material possessions and attainments, Mahabali allowed himself to be filled with spiritual wealth. Mahabali represents human effort, and Vamana represents God's grace. In losing all he had, the second Mahabali became a nobody. However he attained higher levels of fame and glory. Along with Vamana, he is also revered and worshiped on Onam.
"At times our ego might show up. We need to offer our ego to God. When we give up the notion, '10 cents of land is mine', the entire world becomes ours. We need to give up the notion of 'I and mine'. We need to feel 'I am thine!'. This is the attitude of surrender. We need to feel, 'I am like an instrument in thy hands.' This is the indicated meaning of Mahabali's story.
"We see Onam as an auspicious resolve that marks the beginning of good times and the end of bad times. It also conveys the ideal of positive transformation. Just as the incomplete devotion of Mahabali transformed into complete surrender, similar should be the change within us.
"In these times, when corruption and unrighteousness prevail, Onam reminds us of our goal of returning to dharma and values" Amma reminded all those present for Onam celebrations at Amritapuri.
(Excerpt from Amma's Onam message of 2012)