14 Feb 2002, Mysore – Bharata yatra 2002
Amma's darshan programs in Mysore in 2002 began with the implementation of charities and the request for more.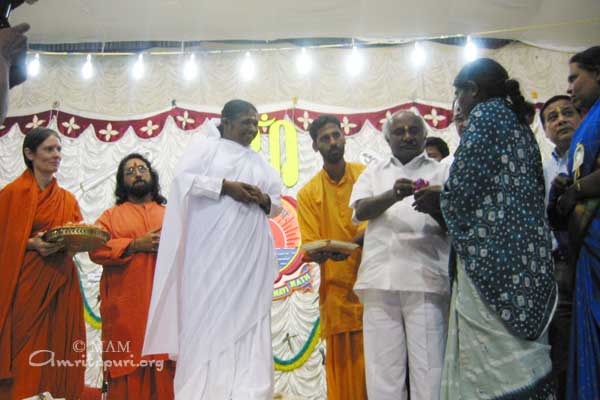 Shining as bright as diamonds, Amma greeted Karnataka's District Minister H. Viswanath with a loving embrace. The full hall of devotees listened on as the minister thanked Amma for her proposal to build another hospital like  AIMS  (Amrita Institute of Medical Sciences) in Mysore. Mr. Viswanath promised that the Karnataka government would donate the necessary land for the project. It seems it will not be long before hi-tech charitable healthcare — provided with love and compassion — finds its way to Mysore.
The minister then symbolically handed over keys to recipients of free homes under the Amrita Kuteeram housing project. The 40 houses — constructed in the Gandhinagar slum — are the first of 1,000 such homes aimed for construction in Karnataka.
Finally, the minister appealed to Amma for help in meeting the costs of a 52-crore drinking-water project.
The rest of the night, Amma spent singing bhajans and giving darshan to the thousands of devotees who've been pining for Her annual visit.