On Nov. 26th, 2011, Br. Shubamrita Chaitanya held a public programme in the beautiful city of St. Petersburg in Russia.
Despite severe weather conditions and temperature of -10 degree Celsius, more than 150 people came to the event, which took place in a centrally located conference hall at the Lityeynyy prospekt.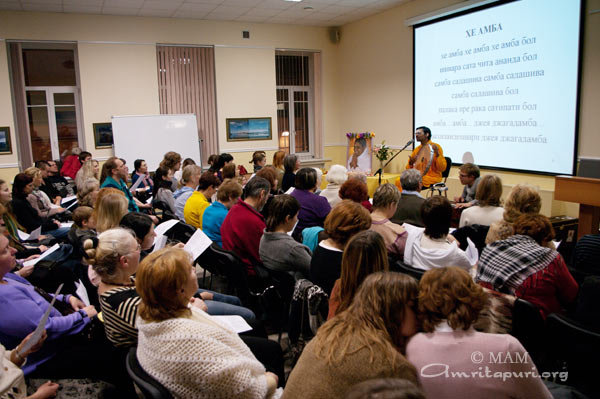 Br. Shubamrita gave a talk on the "Way to Inner Peace" based on Amma's teachings, followed by devotional singing and a short meditation.
For many participants this was their first encounter with Amma's message and teachings. However they were in rapt attention for the talk and meditation and joyfully participated in the bhajans
.
Some of them came to Shubamrita as a group as he was distributing prasad and said, "Amma hasn't physically visited us for nearly 20 years. Please convey our heartfelt prayer to Her that Her Russian children are waiting eagerly for the next visit, to be warmed by Her love again."