On the ninth day of Navaratri, a special program was held at Amritapuri for those devotees who are members of an Amrita Kutambam. An Amrita Kutambam is a formal group of ten families which meets regularly for satsang and service activities. Over 1000 devotees attended. The program, led by Br. Sivamrita Chaitanya, included satsang, archana, bhajans, and a Sarvaishvarya Puja. The Sarvaishvarya Puja is a special puja for gaining spiritual and material prosperity.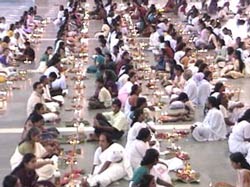 Also on that day, a special homa was also performed for world peace.
The following day, on Vijaya Dashami, Swami Amritagitananda led a chant of the Saraswati mantra while all those who had left their books and instruments at the altar on the eighth night came to retrieve them. After-wards he led bhajans while Swami Turiyamritananda formally initiated over forty local young boys and girls into learning.
In a traditional Vidyarambham ceremony, Swami Turiyamritananda helped each child to trace the letters of the Sanskrit alphabet in a plate of rice.