24th to August 1st, la Ferme du Plessis, Paris
GreenFriends-Europe held the "Experience Week", in which 80 youth from all over the world invested themselves fully into an ecological project for the whole week. These projects were designed to encourage a learning-by-doing process. The Experience Week was awarded by the UNESCO the status of official project of the "Decade for Education on Sustainable Development".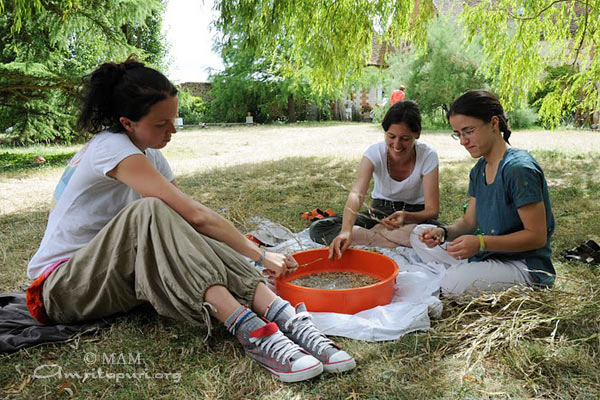 The participants of the "Experience Week" could choose from three different projects managed by youth themselves. The goal of these projects was to go deep into a concrete ecological realisation and develop self-confidence as part of a team. Many complementary activities were proposed so that the projects could really nourish the artistic and philosophical needs of the participants.
The first project was the construction of a traditional dovecote. Dovecotes are an important part of the French heritage because pigeon's excreta are a perfect natural fertilizer. This project was the opportunity to remove the pigeons living in the main tower of the site, which will be renovated in the coming years. Youth learnt eco-building techniques with local materials: a traditional wood frame with professional carpenters, straw and clay techniques for the walls and the pigeonholes.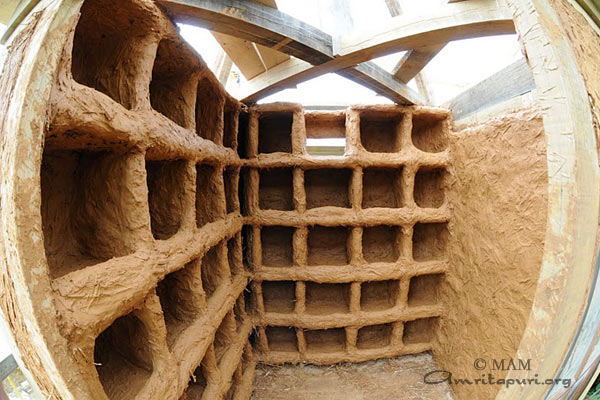 The second project was the continuation of the Seeds of Life project at la Ferme du Plessis that had been launched a few months ago. A new mandala garden aims at helping the French Center attain self-reliance regarding the use of seeds for the organic gardens. The participants were involved in the first seed harvests, which are both very technical and meticulous. A storage room has been started and will offer a seed bank to the Center, which will also be used for traditional seeds from the surroundings of the Center, as Amma had asked for. Many artistic workshops could help the participants develop an intimate understanding of plants and seeds.
The third project was to build an astronomy observatory on a small hill. A lot of different workshops were offered: stone carving for a solar cadran, mosaic work, building a wall with lime… The biggest part of the hard team work was in the construction of a wall with old tyres, in order to maintain the hill but also to create a new half-circular space to watch the sun set in the morning. Astronomy observations were offered during 3 nights, providing the youth with the opportunity to discover the magic of the stars.
Above all, this gathering marked a unique opportunity for youngsters with shared values and a common vision for a sustainable future to meet, exchange and inspire each other to work with their hearts and hands for the betterment of society.
– Dev