27 May 2006 — Thekkawatta, Kalutara District, Western Province, Sri Lanka
For the past seven months, a 16- x 6-foot shack has served as their office, their kitchen, their bathroom and their sleeping quarters. It is from there that they have been managing the construction of the three apartment buildings the Ashram is constructing in Thekkawatta, a village in the Kalutara District of Sri Lanka, as part of its tsunami-relief program.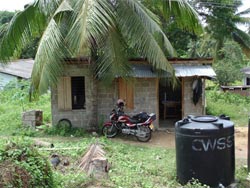 "They are sacrificing a lot," says Mr. Gamage, the technical officer appointed to the site by the Government of Sri Lanka. "They have no luxuries. They are just living out of that small hut, riding bikes to get around, doing their own cooking and washing. They are using the minimum as far as facilities and staff go, sacrificing their personal well-being."
The team comprises Brahmachari Vinayamrita Chaitanya, the head-in-charge of Amma's Ashram in Chennai, and three devotee-volunteers.
"Of course all of the work and sacrifice has only been possible because of Amma's example," says Mohan, a devotee from Chennai who has been living and working at the site. "Amma is giving solace to so many. I have really been touched by that, and I wanted to try to give some of my time and effort to help as well."
The buildings each have three floors, with four apartments on each floor, creating homes for 36 families. Each apartment has a living/dining room, two bedrooms, a kitchen, a bathroom, and two balconies. The flat roof is fully accessible, creating an additional 2,400 square feet for the inhabitants to share.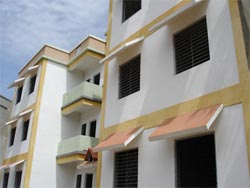 The general plan is the Sri Lankan Governments, but the Ashram has had some flexibility within that that basic framework. "Initially we were going to have a sloped roof, but when we showed Amma the model, she said it was a waste of living space and that we should make it into a terrace," says Anandlal, a devotee from Kozhikode, Kerala, who is serving as the crew's engineer. "We may be living frugally ourselves, but we did not skimp on quality when it came to the buildings. We are using mahogany, which is a very strong wood, and SLS Steel—the best materials. We did what was necessary to ensure that the buildings are earthquake-proof, tsunami-proof and cyclone-proof. It was a more expensive, but they will last."
Br. Vinayamrita says that the houses should be 100-percent finished by mid-July. The basic structures have been completed, but the electrical work and plumbing—all of which the Ashram is doing itself—have yet to be finished.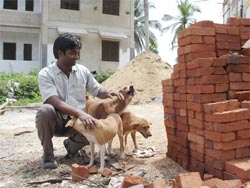 As Br. Vinayamrita and the devotees walk around the construction site, they are followed by four other volunteer staff—a family of stray dogs who are serving as "site security."
Thekkawatta is a Singhalese area, so almost all the people there are Buddhists. In fact, the construction site is just three kilometers away from one of the largest and most popular Buddhist pagodas in the Kalutara district. The beneficiaries, who almost all rely on fishing for their income, are currently living in government-constructed temporary shelters near the seashore. Every few days they come up to check on the progress of the houses.
"They show a lot of appreciation," says Mohan. "And they are very excited about their new homes. The women like to go and see the kitchens. They are big with a nice counter and sink and system of shelves. They really like that."
The Ashram is also constructing similar buildings for 60 families in Periyanilavanai, a Tamil-populated village in Ampara District.
—Tulasi