17 October 2005, Kalmunai, Sri Lanka
Today morning, the foundation stone was laid for the construction of 60 houses in Periyanilavanai in the Kalmunai division of Ampara District, Eastern Province of Sri Lanka. As per the Govt. of Sri Lanka's guidelines, the Math is building 3 story homes, each with a total of 530 square feet.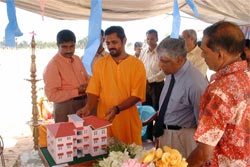 The event was attended by Mr.N. Pathmanathan, Member of Parliament, Ampara. He spoke of his appreciation for the care and concern that Amma has shown towards the tsunami affected people of Sri Lanka.
He noted that in February, out of her compassion, Amma had traveled all the way from India to Sri Lanka, visiting many refugee camps in different parts of the country, and consoling thousands. Amma is now building permanent houses for these affected people.
Mr. Herath Abeyaweera, District Collector, Ampara, also spoke at the event. He lauded the Math for building houses for the people who were made homeless by the tsunami.
Mr. U. L. A. Azeez, Additional Collector, noted that NGO's like the Mata Amritanandamayi Math are doing a great service for the people of Sri Lanka by providing relief and rehabilitation for the affected. He stated that the Periyanilavanai region was one of the worst affected by the tsunami and that building houses for the people of this area is a very great service.
Mr. Vasudevan, Divisional Secretary, Kalmunai, also praised the services of the Math and assured that he would provide all the necessary help for the speedy completion of the project.
Br. Vinayamrita Chaitanya further spoke about Amma and the disaster relief activities of the Math all over the world, including relief efforts taking place in the US by Amma's devotees in response to Hurricane Katrina.