House Building with Love and Compassion
11 December 2005 — Edachira, Alappad Panchayat, Kollam District, Kerala
For the past few weeks, the scene across the backwaters from the tiny island of Edachira has been something of a festival, as both villagers and residents of Amritapuri have been working together to help build homes for the victims of last year's tsunami. Almost 1,000 volunteers come each weekend from all over the region to participate in 'brick seva.' Today, despite heavy rains in the morning, more than 100 men, women and children came to help.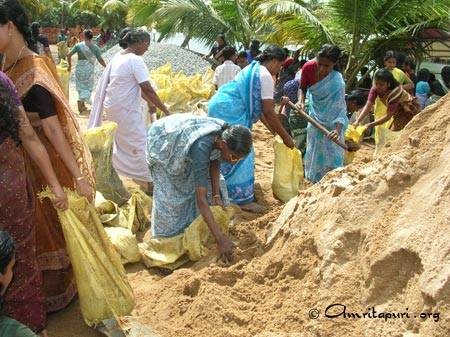 Piles of sand, gravel and bricks lined the backwaters, awaiting transport by boat to Edachira, where the Ashram is building 28 homes. By 8 a.m., volunteers had begun to descend on the piles, filling sacks with sand or gravel, or passing bricks onto the awaiting boats.
In fact, many of the volunteers had never met Amma. Mahendra, a rubber-tree tapper from Kulathoopuzha came to help. "I have heard about Amma, but have yet to met her. I will this afternoon, but first I wanted to come here to do some seva."
Saji, a tourist-boat captain, had accompanied Mahendra along with four others from Kulathoopuzha. Even though none of them had been affected by the tsunami, they still wanted to help.
The past year has seen a tremendous transformation in the villagers around Amritapuri.  In the early years, most of the villagers had been indifferent to the Ashram's charitable activities in the region.  Even after the tsunami struck, for the first few months, while ashramites were working around the clock to build shelters in Srayikkad, a village about two km north of Amritapuri, hardly any villagers were interested in helping. Today, after seeing and feeling the effects of Amma's efforts and witnessing the hard work being done by the Ashram residents and devotees, many villagers are now actually competing with one another to see how much work they can do.
Prasad, a politician in the Communist Party of India in Azhikkal, was one of the volunteers who had come to help. He had lost his house in the tsunami and is now receiving a new one from another NGO. "I'm amazed at how Amma has responded to the tsunami," he said. "What the government has not been able to do, Amma has. She has worked so hard and so fast. I'm glad to be helping others." He had first met Amma 20 years ago, but only recently became an active supporter of the Ashram's activities.  He is now the leader of a local satsang (Amrita Kudumbam).  "Life is like a tsunami," he said. "It can be lost at any time.  If something happens in the future, you need some ideal, some faith, some guru, to hold on to.  I want my children to have this support and I have found it in Amma."
In the nearby villages, groups of women have been organizing daily or weekly outings to come and help. Suneeta, a mother of three, came with 10 other women from her village of Klappana. None of them had been directly affected by the tsunami; they said they were simply there to express their love for Amma.
edachira girls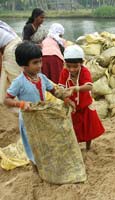 Ramani, a young mother from Vallikkavu, participates in a local Amrita Kudumbam (satsang).  She has been receiving a pension from the Ashram and was helping because she wanted to give something back to Amma.
A few children also pitched in. Nideesh, age 14, came to help along with his two aunts. He had attended the Yoga-English-Sanskrit Camp at the Ashram in May for children who were affected by the tsunami. He too said that he was there to show his love for Amma and that he wanted to give something back to her. Both he and two of his aunts had lost their houses in the tsunami.
After the work is completed in Edachira, the group will shift to another location and the festival will start up once again. There are still a few hundred more homes to complete in the area around the Ashram. Amma's love and compassion has inspired and touched the hearts of so many that no matter where or when people gather to provide help to those in need, a festival of love and compassion spontaneously arises.
–Kannadi
See also