3 July 2005 — Nagapattinam, Tamil Nadu
The Honourable Union Finance Minister, Sri. P. Chidambaram, handed more than of 210 brand-new FRP boats, outboard engines and fishing nets to the fishermen of Nagore, Pattinacherry.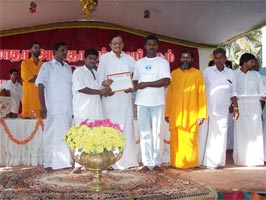 The beneficiaries include fishermen from Samanthampettai, Tharangambadi, Nambiar Nagar as well as from Nagore-Pattinacherry.
The Ashram has already distributed nearly 150 repaired boats and serviced nearly 230 engines. High-quality materials were used to repair the boats and engines were serviced by experienced engineers with quality spare parts.
—Kannadi