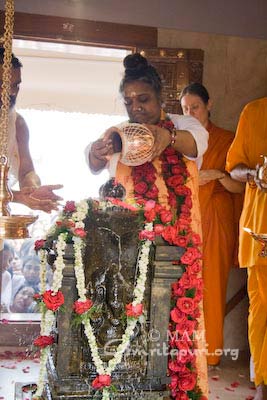 At a typical temple festival in today's India, there are no satsangs, no spiritual words of wisdom, no bhajans. If there is a puja at all, it will be in a corner of the temple and ignored by most in favour of the dramas and other entertainment, which are no different from what one might see at a cinema. Generally the temple authorities allow this to go on because it seems to be the only way to draw people to the temple at all. But Amma has "driven the money changers out of the temple." Or rather, in Her infinitely gentle fashion, She built Her own temples and never invited them in. At Her three- and four-day festivals, the Sri Lalita Sahasranama is chanted five times daily in a call-and-response fashion to allow everyone to participate. Amma Herself sings bhajans twice daily, and the swamis and others sing continuously as long as She is giving darshan, which She does for the better part of the day and night. Sannyasis, brahmacharis, and spiritually-minded devotees give satsang both in the morning and the evening. At Amma's Brahmasthanam festivals, scarcely a moment passes when the Names of God are not being chanted—broadcast on dozens of speakers up to a kilometre away so that all in the darshan queue can hear—and each attendee has the opportunity to see, hear, touch, and share their sorrows with the Goddess.
Everyone is Welcome
The temples are kept in pristine purity through daily pujas that regenerate the atmosphere of pure devotion, and kindle a sense of unity among the devotees. Everyone, irrespective of gender, caste or religion is welcome to worship. The serenity of the temple atmosphere is maintained throughout the year by allowing only activities with direct spiritual bearing to be held in the temple premises.
A Direct, Personal Connection to God
Traditionally, if you wanted the benefits of a particular puja, you had to pay a priest to perform the puja for you. But Amma reasoned that if you are the person who is suffering, you must perform the puja yourself. "If you are hungry," She said, "It's not enough that someone else eats." After so many years of listening to people's problems, Amma determined that, generally, people experience sorrow or difficulties when their lives are under the influence of Saturn, Mars, or Rahu.
In another revolutionary move, Amma initiated mass pujas, guided by Herself or one of Her monastic disciples, in which each participant performs the puja for him- or herself. Amma asked everyone to join in these pujas, without any distinction of caste, religion, age or gender. Amma wanted to removed the oft-misused authority of the priesthood, letting the people connect with God directly.
Epoch making temples
On the 21st of April 1988, Amma consecrated the first Brahmasthanam (abode of the Absolute) temple at Kodungallur, which was constructed according to Her instructions. Amma's Brahmasthanam temples are so different from the common temples of India today, it can be said that they are the hallmarks of a new epoch in temple worship.
Unity in Diversity
While many temples have shrines to more than one deity, each deity is represented by a separate murthi (idol). Amma's temples have only one murthi. But in a revolutionary move, She instructed that the stone murthi be carved with four faces, one on each side. The shrine depicts the images of Shiva's Divine family: Shiva, Devi, Ganesha and a Serpent (representing the Kundalini power, Rahu and Murugan). This clearly points to the underlying unity inherent in the myriad deities of the Hindu pantheon: the One with many faces.
Installation dates
On the 21st of April 1988, Amma installed the first stone image in the first Brahmasthanam temple at Kodungallur, constructed according to Her instructions. As per March 2012, 21 such temples had been installed by Amma
The 21 Brahmasthanam Temples with their respective dates of installation:
Kodungallur – 21st April 1988
Madras – 6th May 1990
Trivandrum – 16th February 1992
Pune – 15th April 1992
Kozhikode – 18th January 1993
Mumbai – 12th February, 1995
Delhi – 3rd March, 1995
Madurai – 5th April, 1995
Mauritius Island – 2nd April, 1998 (Only temple outside of India)
Palakkad – 20th January 1999
Thalassery – 22nd April 1999
Mysore – 18th February, 2000
Mananthavady – 28th February, 2001
Coimbatore – 2nd May 2001
Hyderabad – 24th February 2002
Bangalore – 12th February 2003
Cochin – 25th April 2003
Trissur – 10th April 2005
Mangalore – 18th feb 2008
Kolkotta – 29th mar 2008
Kannur – 5th May 2011
Manjeri – 23rd Apr 2015
Women Priests – Reviving an Ancient Tradition
"Until recently, women were not allowed to worship in the inner sanctum of a temple; nor could women consecrate a temple or perform Vedic rituals. Women didn't even have the freedom to chant Vedic mantras. But Amma is encouraging and appointing women to do these things. And it is Amma who performs the consecration ceremony in all the temples built by our ashram. There were many who protested against women doing all these things, because for generations all those ceremonies had been done only by men.
To those who questioned what we were doing, Amma explained that we are worshiping a God who is beyond all differences – who does not differentiate between male and female. As it turns out, the majority of people have supported this revolutionary move. Those prohibitions against women were never actually a part of ancient Hindu tradition. They were in all likelihood created by men who belonged to the higher classes of society, in order to exploit and oppress women. Those rules were invented in the middle ages. They didn't exist in ancient India. Amma shared this idea of her's in an address of A Global Peace Initiative of Women Religious and Spiritual Leaders at Palais des Nations, 7 October 2002.