Celebrating Earth Day in Delhi
22 April 2011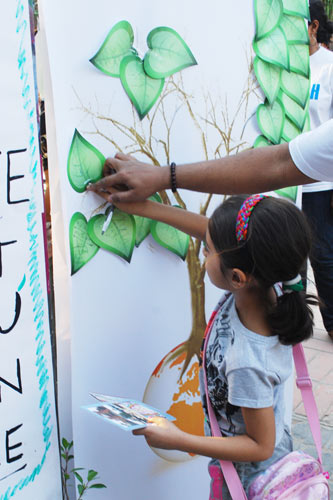 It was in the background of one of the worst natural disasters – the earthquake and tsunami in Japan – that this year's Earth day arrived on the 22nd of April. This calamity of unprecedented magnitude lent added relevance and significance to this year's Earth Day. Ayudh Delhi felt that it was high time that awareness about ever deteriorating environmental condition should be brought home to all, so as to save Earth, our ONLY home. Hence, replicating the activity undertaken during Earth Day last year, another awareness campaign about the state of our Earth and the various ways in which each individual can bring about improvement in environment was done.
The venue for this awareness campaign was Dilli Haat at INA on Aurobindo Marg, a place known as a confluence of various cultural traditions and handicrafts from different parts of the country. A large crowd of knowledgeable and passionate visitors coupled with the ambience of the place and the idea itself contributed to a truly memorable and rewarding evening.
The state of our earth was put across in the shape of a dry and barren tree atop a famished earth. People were asked to contribute their ideas, which could liven up this dying earth. The ideas were pinned up to the tree in the form of green leaves. People came in droves to contribute their ideas and suggestions. Within a few hours itself, the tree which had looked so barren in the beginning was fluttering with the green leaves of hope.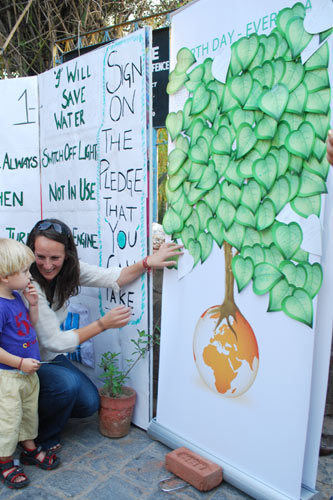 Another initiative was to get a signed commitment from the people to take up at least one of the three very simple acts to bring about a significant improvement in environmental condition. The commitments were "To save Water", "To switch off electricity when not required" and "To turn off the engines of vehicles when at the red lights". The response was seen to be believed. The Big Banner hosting these 3 commitments ran out of space for people to sign on in no time. People assured us that the commitment that they have done here is meant to be followed in true letter and spirit.
If the above two activities were well received, the crown jewel was the Tulsi distribution. As an extension of the Tulsi distribution done at the time of Amma's visit to Delhi in mid-March this year, Ayudh distributed around 1000 tulsi saplings free of cost to the visitors at Dilli Haat. People were really happy to get the sapling. They assured us that they would take good care of it and nourish it with all their love and warmth. Hence it was another step in Amma's vision of the plantation drive, in which Amma wants people to take up the responsibility to plant saplings and nurture them.
The significant lesson these activities brought home to us was that people clearly understood the deteriorating environmental condition that we are in right now, and voluntary initiatives to spread the message to save the Earth would be wholeheartedly welcomed. Obviously, there is need is to organize such initiatives so that like- minded people can come together and get to know that there are many who share their concern and that they are not alone in the fight to save the nature. This in turn would give them hope to continue their efforts at making the world a better place to live in.
– Dass
Default Gallery Type Template
This is the default gallery type template, located in:
/home/amritapuri.org/htdocs/wp-content/plugins/nextgen-gallery/products/photocrati_nextgen/modules/nextgen_gallery_display/templates/index.php.
If you're seeing this, it's because the gallery type you selected has not provided a template of it's own.